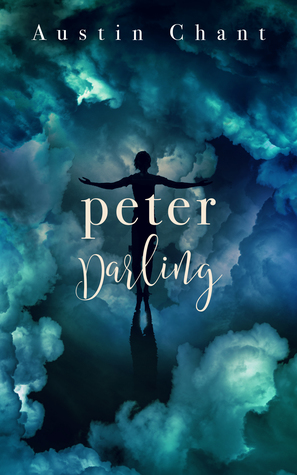 4/5 Stars
I have always adored Peter Pan stories. Growing up, Hook was one of my all-time favorite movies (it still is). So when I saw Silvia's review of this little gem, I just had to get my hands on it. Peter Darling by Austin Chant is an enchanting, heart-wrenching, and delightful read. It was something my anxious little heart needed right about now.
Here is the blurb for those who aren't familiar with the premise:
Ten years ago, Peter Pan left Neverland to grow up, leaving behind his adolescent dreams of boyhood and resigning himself to life as Wendy Darling. Growing up, however, has only made him realize how inescapable his identity as a man is.

But when he returns to Neverland, everything has changed: the Lost Boys have become men, and the war games they once played are now real and deadly. Even more shocking is the attraction Peter never knew he could feel for his old rival, Captain Hook—and the realization that he no longer knows which of them is the real villain.
This was the first book I've ever read with a trans character. I feel guilty for even saying it, haha. But it's true. And I loved it. To me, this entire book was about Peter coming to terms with his own sexuality in the context of Neverland and his lifelong battle with James Hook.
The Characters
I just want to bundle Peter up and tell him, "I'll be your family!" He was precious and daring and saucy and everything you'd expect a mostly-grown-up Pan to be.
James Hook was dashing and sexy and everything a good pirate ought to be. He was also tender, sweet, kind, and understanding.
There are other characters, Tinker Bell of course and the Lost Boys. There were also two additional characters called Ernest and Samuel who played intriguing roles in the overall story (but I won't give their places away).
The Setting
Neverland has always been a fascinating place to me. As a child, I often wanted to run away to Neverland where you could be carefree and worry-less. I still do even as an adult! So, it was thoroughly enjoyable to see how Neverland bent and shaped itself to Peter's shifting moods and will. The fae and mermaids were present along with a sense of overarching magic about the place. It was all beautifully rendered and described by Chant.
The Romance
Okay. Seriously, you guys. This was such a sweet love story. It was fluffy and soft and all the wonderful things that you want in a good romance. There were also no truly explicit scenes, which makes this appropriate for older teens in my opinion. Hook and Pan, and later Peter and James, were adorable together and I have absolutely nothing negative to say about them. At all. Ever.
---
Why 4/5 stars rather than 5? I WISH IT HAD BEEN LONGER!!!! I wish there had been more in depth explanations of both of their backstories. I wish that we could have seen the potential for conflict that might arise from Peter returning from Neverland and finding his body changed (of course, I would want this to be dealt with in a very sensitive manner). Either way, this book was fantastic and I am so glad I picked it up after Silvia's recommendation!!
Go and check it out for yourself!
SPOILERY QUOTE BELOW.
Favorite Quotes:
"Recognition tugged again at the back of Hook's mind, but he couldn't place this man anywhere in his memories, and he thought he would've kept a record of that smile."
"Peter wet his lips with his tongue. 'This is is. You're mine.'

'Am I?' Hook asked, as Peter drew back his sword. 'Or are you mine?'"
"Haven't you ever noticed that the sun comes out when he smiles?" the queen said. "It's another thing he wished for when he was a boy."

James laughed raggedly. "And all I wished for was a pirate crew."

"He is a far bolder storyteller than you."
My favorite quote of all, however, is the very very last line in the book. And you'll just have to read it to find out!